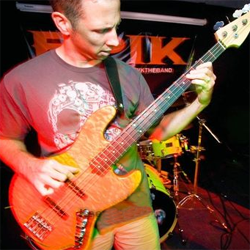 I love playing bass. I've played since I was 15 and I've had the great fortune to teach dozens of students how to begin and how to improve their playing. Now that I don't have time to teach but still want to share ideas, I've created #basstip on Twitter as an online catalog. Find all the #basstip entries here.
What's been really great about Twitter is that through #basstip I've met people like Steve Lawson, a British solo bassist who really stretches what the instrument can do. Not only that, but he's a blogger as well.
Here's the top 10 so far; most by me but others have joined in and I credit their contributions. I'm still working on #8. 🙂 :
Top ten #basstip ideas posted to Twitter:
1. Learn to play scales in 6ths. It's very very melodic.
2. Remember, you ultimately control the dynamics and "tightness" of your band so you must know your tunes well to do your job.
3. Learn some guitar and piano chords. They are great visual cues when you lose your place in a song.
4. Might sound strange, but you can nail that difficult passage by willing it to happen (and practice!).
5. Learn to play scales. Then learn how the "number" system relates. Then learn that transposing is a breeze. @webandflow.
6. Little and often. Frequent, regular short practice sessions will see you develop faster than irregular infrequent long ones. @Greg_Collins.
7. It isn't how many notes you play that matters but the spaces in between; less is very often more. @Greg_Collins.
8. Learn from life, and then apply those to bass. Example: It's better to listen than to speak.
9. Do you believe in the notes you play? Practice frees you from having to think or worry about your note choices.
10. Be like Yves Carbonne: Quiet, unassuming, graceful, humble, and a master of his craft.
I met Yves Carbonne at NAMM 2008 and he was the classiest, most modest not just musician but PERSON I've ever met and he's so freakin talented. He jammed with a Warwick staffer at their booth using the new Jonas Hellborg gear (sweet, sweet rig with all brushed metal aluminum construction). It was obvious the staffer wasn't up to the task, but Yves played to his strengths and made it all work.
Yves is a role model, though and through. He even responded personally to my compliments, as humbly as I had imagined he would. That day is burned into my mind, and it reminded me that not only are first impressions important, but to be consistently humble is an admirable trait.
I want to also thank Steve Lawson PROFUSELY for being so approachable, honest, and down-to-earth. He's taught me that no matter how talented or busy you are, there's always time to spread knowledge.
As a photographer friend once said, "there are no secrets," and I believe it.